Please note: Thursday, June 18th, livestream, and then Saturday, June 20th, National Arts Drive. Okay, here we go:
"How have you been?" Not long after we'd finished saying "Happy New Year" and looked with promise to exciting new beginnings in 2020, we were dealt with huge challenges. Leading the way were the epic-scale tragic wild fires in Australia; then the global pandemic of Covid 19; then globally-held Black Lives Matter rallies and protests. Does it feel like a whole new world? I think it's like being thrown in the heavy-duty wash cycle and then dumped out, with no dryer in site. When we emerge from our homes and see an acquaintance from 3 months earlier, we shout across the street, "How have you been?"
Unbeknownst that I was taking cues from Abraham Maslow's Hierarchy of Needs Pyramid, March saw me in the bottom rung: Physiological needs. Renovations, painting, cleaning, organizing, gardening all felt so worthwhile and an excellent use of time. As March turned to April and my nest-building hibernation period was coming to an end, I found myself at a loss for a few dark days, wondering, "What's it all about?" Millions were wondering the same thing.
I walked and wondered, at a loss for meaning. My job was done till further notice. Any work I had done leading up to my show in February was all for naught it seemed. Coming home from a walk at the beach, I noticed my neighbours' windows were decorated with paper hearts, to show thanks and gratitude to the Front Line Workers that were working tirelessly and fearlessly through the Covid storm. After a few days of pondering my reality, an inspiration told me to sew some hearts and place them in the tree near the boulevard . A hunch said "So many are alone and scared. If everyone sees them, maybe they will be lightened". And so it began.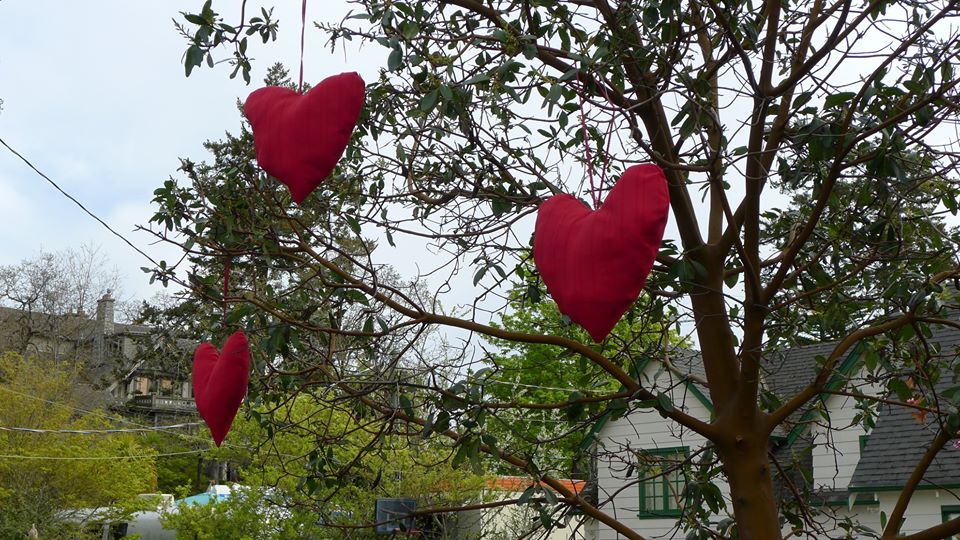 Sitting in my office, I could see how much they touched passers-by. Photographers would stop and contort themselves to get the right angle, families would point and laugh with delight. Sewing a few more for my immediate neighbours, the reaction was heart-warming. It was clear that the hearts were powerful. The mission grew: video camera and tripod in tow, I'd pedal out to various locations where I knew people might be lonely or hurting. Sometimes I hung the hearts secretly, while other times I'd make a presentation. It was obvious that a song had to be written to go with the video work.
The chorus of "Hearts" strives to engage everyone. Inspiration for the final line, "Love flows through the roots of you 'n' me" came from experiences In 2019. I had pedalled to Stewart, B.C., absorbing history and biology along the way. Author John Valliant's award-winning "The Golden Spruce" was purchased while aboard the B.C. ferry from Port Hardy to Price Rupert. The sailing through the Inner Passage was the perfect setting for devouring his detailed writing. He brings to life the ancient beauty of the coastal wilderness, and the drawn-out appropriation of Haida territory by Europeans. Stepping in the wrong place one day, I discovered that Valliant's description of the forest floor was accurate, as my leg quickly sunk several feet, through mushrooms, vines, roots and more. It was laughably clear that we are here for such a short time, just one species that must care for one another. Like trees communicate through their roots, we are connected through our ancestry and our love.
A hearty thanks to the fabulous Brian Tate: choir conductor, voice teacher, composer and performing artist, whose mentoring helped me to polish the new tune. "Hearts" was born. Finding musicians or a studio that was willing to host people in close proximity became a barrier. Eventually, Damian Graham, drummer, performer and music educator was willing to take on the recording of the different elements. With Ashley Wey, pianist, and Louis Rudner, bassist, on board, we were ready to make it happen.
Stopping modern society's hamster wheel-like pace, a collective sigh of relief was heard from all earth's creatures. This was one of the unexpected blessings of Covid 19. While we were in pause mode, discovering the existential "what really matters", the whole world was made witness to a string of horrific and outrageous events in the U.S. The pivotal moment was when George Floyd was murdered in broad daylight by a police officer. "Enough", we said. Even as I write, protests continue. Whole police departments are being scrutinized, and many will be dismantled. Canada meanwhile, is also found guilty of injustices; of colonization, cultural genocide, and the ongoing oppression of our Indigenous citizens, for the profit margins of a few and the political parties they support. Systemic racism is being held up to a powerful light, and no one will rest until a happy new dawn for everyone is realized. I was moved to speak and offered a song in solidarity. https://www.youtube.com/watch?v=0lm8vHG9XNQ There is much to be done for a just recovery for all, and I trust that everyone will do their homework and act as we are able, in big and small ways.
The chorus of "Hearts" became more profound than ever. We will debut the song in a livestream event, this Thursday, June 18th, 2020, from 6 – 7 p.m. PST. It is not the first song about love amongst our human family, but the timing seems so right. Please tune into http://www.hemannsjazz.com for the livestream there, or go to the Facebook version, where you can "chat" and "like" the event in the moment. http://www.facebook.com/hermannsjazz The hour long program will be available indefinitely, and will include jazz standards, my originals including "Hearts", and a few contemporary pieces. There are links for supporting my work, paying the musicians, or contributing to the Jazz on View society.
Then, on Saturday, June 20th, 2020, a group called RAW has coordinated the first National Arts Drive, throughout North America and beyond. http://www.nationalartsdrive.com. Artists of all genres will be offering their splendour on their front lawn . The delighted public that has signed up to participate will receive a map on the Saturday morning, directing them to the artists in their hometown. Everyone must be socially-distanced, and attendees move to the next artisan after 10 minutes in one location. No items can be sold, but there is a link for supporting local artists., most everyone having lost their main source of income during this time. Ashley, Louis and Damian will be joining me here in Victoria, B.C. from 1 – 4 p.m. PST.
With the current focus on anti-racism and the need for compassion and understanding amongst all peoples, this is a critical time to be pro-active. Long-overdue gardening work in March served as a beautiful metaphor: Clearing the invasive weeds was hard work, but allowed the beauty and worthiness of the good plants to thrive. Our way forward will be like this…weeding out overgrown evils and injustices and letting goodness thrive. Countless organizations have been striving for years in these matters, but supporting each other is the way forward, with initiatives such as: http://www.justrecoveryforall.ca or http://www.theleap.org
I believe that leading by example is crucial to show that we truly are all one. Therefore, anyone that wants to be in the finale of the "Hearts" music video should show up on the Saturday and interact in front of the video camera that will be running between 1 – 4. There is no guarantee that you'll be included in the final edit, but at a minimum, the event will be fun. All peoples are welcome and encouraged to participate. Should you have questions or concerns, do not hesitate to contact me via the email link.
"How have you been? " How we've been is the same amongst all of us. It's been a uniting 6 months. Please reach out and touch someone with your kindness. Listen. Care. Read and Learn. Don't forget to donate generously, show up to peaceful rallies, write your local and national leaders. And, sing and dance with each other…all socially-distanced. Peace, Lorraine.