Hello friends! If you're here for the details of upcoming show: Cozy Winter's Night 2023 at Hermann's Jazz Club in Victoria, on Sun. Dec. 17th, from 7:00 – 9:00 p.m, note that there are more details in the last paragraph of this blog post.
Now, enjoy new reviews and stories. Put your sweater on, or turn up the heat. Let's get cozy….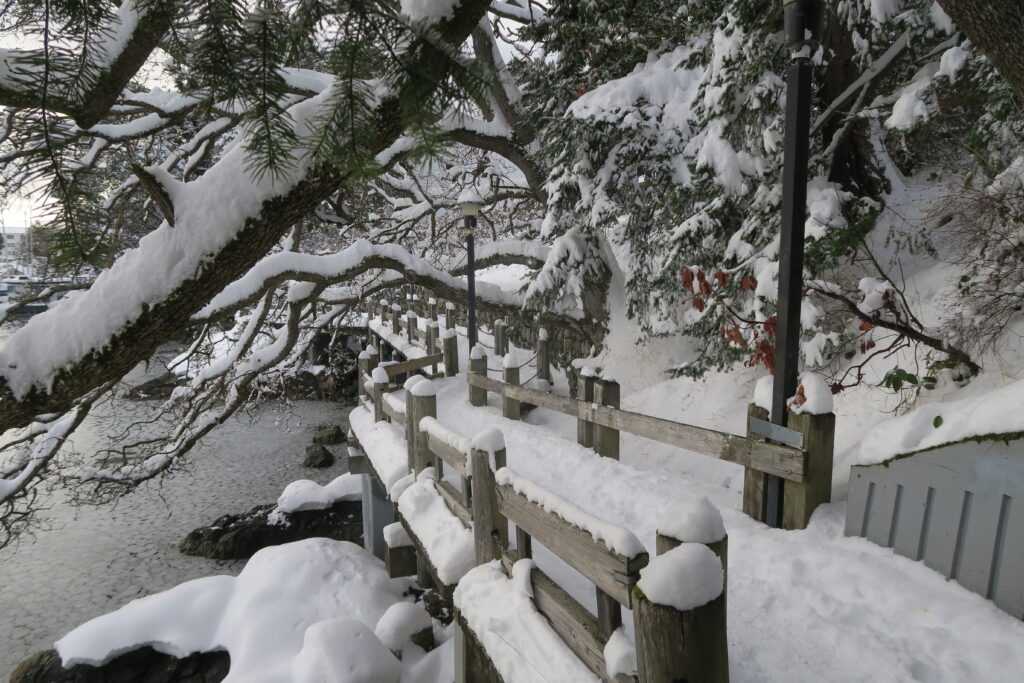 The Burt Bacharach Tribute show in September:
Thank you one and all; we had fun! Special guests included multi-talented composer/conductor/coach Brian Tate, who sang the duets with me. Brian also offered a gorgeous rendition of April Fools, a love song for the ages. Ashley Wey, on piano, and Louis Rudner, masterfully working the bass, are long-time team members and collaborators, and I leaned into them for over 10 new-to-us songs. Thank you for beautiful solo passages and for taking on my new project ideas!
It was wonderful to have drummer Kelby MacNayr on deck with his stunning improvisations, they make the music unique, powerful and take on new life. Other stage guests included Patrick Boyle on trumpet, and Roy Styffe on saxophone, who took turns delighting the crowd with their brilliant embellishments.
Speaking of the crowd, Herman's was near packed and full of great energy. The best turn-out since pre-Covid days…who knew?!!!!. Several audience members were regulars to the shows, and again, my thanks for your support and enthusiasm for the live events.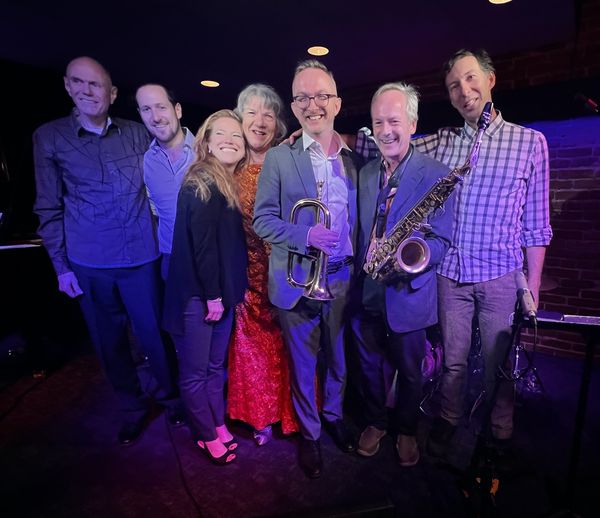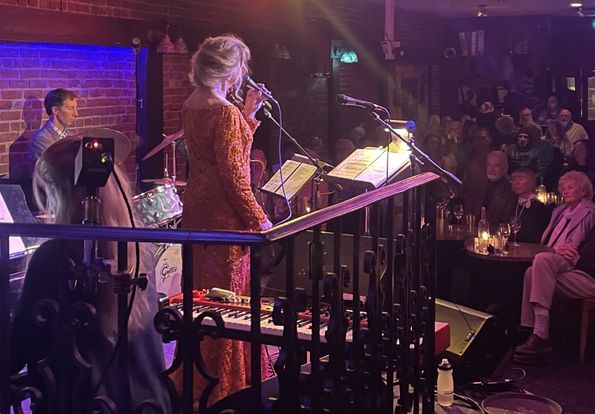 The orange dress…the Inside Story (inquiring minds want to know?)
When planning an outfit for a gig, I head to Gala Fabrics. Shortly after they moved their store location, I was lucky to get sumptuous wedding fabric for a fraction of the regular price ~ It had been in storage long enough that the sequins had yellowed.
For October Elements '22, I dyed the fabric orange with the full intention of sewing a dress for the upcoming show. Sadly however, the fabric was impossible to run through a sewing machine: The entire dress would require hours of hand-stitching! Without motivation then, the cut pieces sat in a bundle for nearly a year.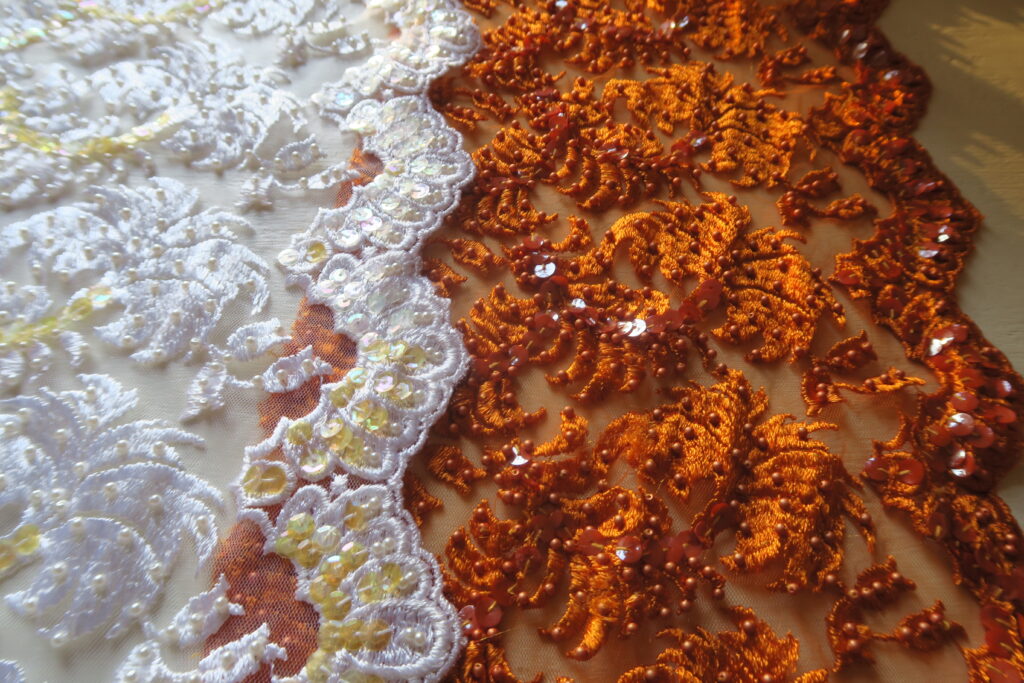 In cutting the fabric, orange beads that came off were used to embroider a fabric heart, my offering for Truth and Reconciliation '22. A glimpse of that heart can be seen here.
Once the gig was booked for Burt Bacharach, I realized it coincided with Truth and Reconciliation Day 2023. It became obvious then that I prepare the orange dress in time for the show. Time, toil and long nights resulted in an outfit reflective of my conviction, passion and belief in a greater community embracing inclusion and equality.
With Truth and Reconciliation in mind, I sold one of my painted canvases during show's intermission. The proceeds were donated to the Victoria Native Friendship Society. Thank you Lauren for your purchase!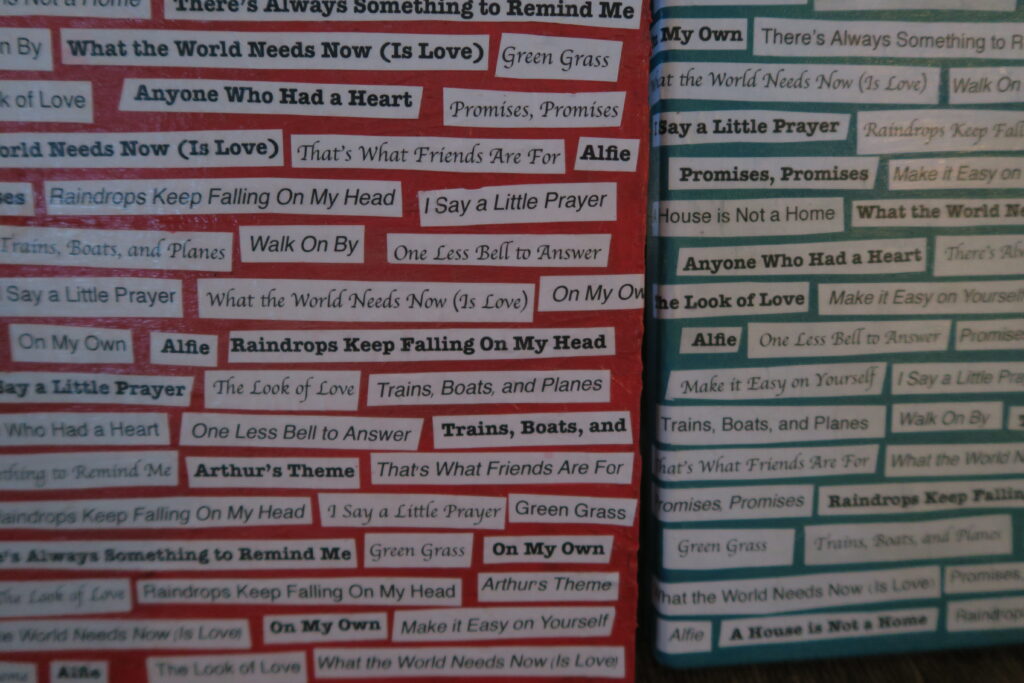 Back to the show…
The Bacharach show brought many a new face to the show…..perhaps fresh interest piqued by the September '23 issue of Inspire magazine. Thank you publisher Barbara Risto, for checking in on my music work over the years, my journey, and believing that my story was worth telling.
Thanks also to writer Kate Robertson who crafted the tale beautifully. Deep appreciation also to Jan (pronounced Yan), the affable photographer for the article, who clearly has a knack for great lighting and creating a sense of ease.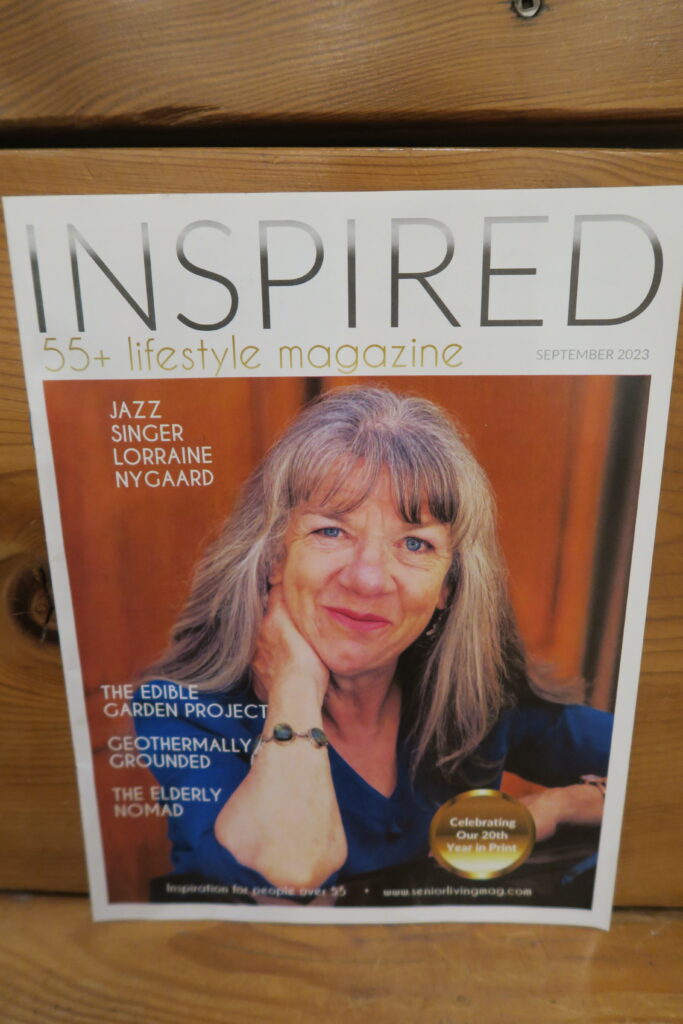 Then? Life happens as it does for everyone, and before you know it, Thanksgiving, at least 5 family birthdays, Hallowe'en, and Remembrance Day have all come and gone.
Cozy Winter's Night Details:
As in opening comments, the 4th edition of Cozy Winter's Night is happening on December 17th at Hermann's .
Through our collective annual solstice, dark and cold nights, my birthday, Christmas and other celebrations, I hope to offer a warm space and create an atmosphere of comfort, joy, and peace. As a yoga and fitness class instructor, I believe deeply in the connection between mind, body and spirit. Also profound and tangible, is the energy between ourselves as a song is delivered & received.
Joining me at Hermann's will be fabulous pianist/organist Nick Peck. Nick and I have enjoyed playing together at jazz festival jam sessions, and I'm excited for this opportunity to perform an entire show with him. Coming from north Vancouver Island, also joining us will be Brock Meades, the young award-winning bassist that's creating a buzz in the music community. Kelby has worked with both of these gentlemen regularly, and we look forward to this exciting collaboration.
Thanks for checking in here. Thanks for considering to attend Cozy Winter's Night; sharing to an acquaintance; taking a poster for your neighbourhood etc.. If you can't make it, there's always the livestream version. Donations to ArtsOnView Society; the musicians; or both; are gratefully accepted through the donation link on the Hermann's page. Your support and enthusiasm for local music is appreciated more than you know.
Other news! If you're needing some great music for your special soiree, wedding, funeral, anniversary, birthday and more, please keep me in mind. I'm versatile well beyond the jazz club. Duo, 10-piece band, and everything in between….Let's talk !
See you for Cozy Winter's Night, on Sunday Dec. 17, 7 pm downbeat. Doors at 5:30, and plenty of free-parking after 6 next door in the safe, well-lit parkade. To avoid disappointment, reservations are strongly recommended. Till then, be well.