Hey…..cool things are happening! You want to know, right? Just before they sell you a new charging mechanism for your power drill, they'll show you neat projects that were recently completed. You can also make cool things when you use the charger, now on sale. Perhaps it's a few photos of a magnificent back garden, and then lo and behold, the bags of enriched soil that made it so, are now available at the special deal of "buy two bags, get the third one free". Flogging goods via social media is the new normal.
Worrying whether I am blogging or flogging has kept me from posting. When this website was created, there was sincere intention of writing inspirational posts, philosophical pondering, even some lifestyle hacks. However, living life has kept me busy enough that there has been no space for creative blogging. Meanwhile, there are many people asking, "Where can I see when you're playing next?" that we can't wait any longer. Without further ado, here's the latest gig news: unashamed live music event flogging!
Lorraine Nygaard Quartet performs at Victoria Jazzfest, on July 1, 2023, 12 – 1 p.m. at Esquimalt Bullen Park. Afternoon outdoor stage shows are free. Come one and all to this grassy field, to be soothed and serenaded by the music, with the opportunity to dance your special style. Joining me on the stage will be the stellar Ashley Wey on piano; Louis Rudner on bass; and Damian Graham on drums. We've worked together often, for the Nina Simone tribute show, at Christmas time and more, so there's a cool groove going on. Audience members love the vibe and you will too!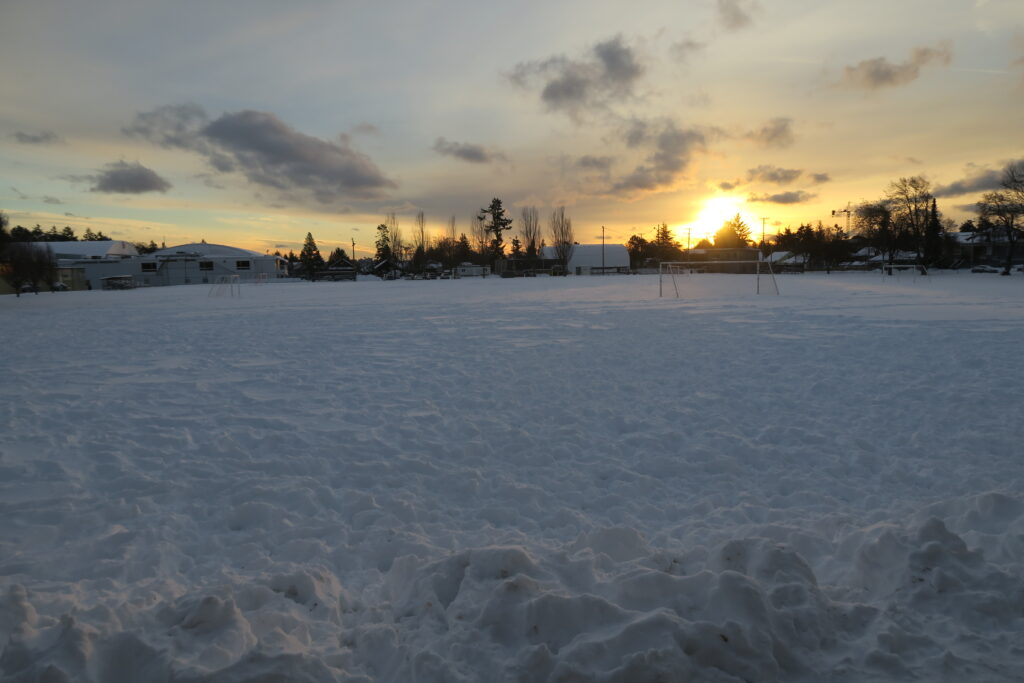 This is my first appearance at Victoria Jazzfest, and I'm honoured to perform in Bullen Park, my old stomping grounds. In elementary/middle school days, many happy hours were spent playing softball on the parched grass. I've walked the field countless times since, and happened to take a photo of the snowstorm of Christmas '22.. Do not fear: Park staff have been watering, so it'll be soft green seating for outdoor music attendees!
It would be wonderful to have a phenomenal showing, letting Greater Victoria know that Esquimalt supports and enjoys live music. Let's dance and mingle, enjoying the many styles and tempos from local groups. My band and I are on from 12 – 1, then there are several stellar musicians after us, all free to enjoy. Evenings are ticketed events.
More details will come, but these other upcoming gigs are worth noting. Please save and/or share the following dates:
Tribute to Burt Bacharach: Friday, September 29th, 7 – 9 p.m., at Hermann's Jazz Club, featuring yours truly, and the stellar line-up as always.
"Christmas with Lorraine and Friends" Sunday, December 17th, 7 – 9 p.m., at Hermann's Jazz Club for this special event. You know that it's your energy that makes this happen, right?!
Thank you to the Chemainus Valley Arts and Culture Society for sponsoring the gigs that happened during May and June at the Osborne Bay Pub in Crofton. With Ashley, Louis, and Hans Verhoeven, we had an absolute blast on the stage, and appreciated the warm reception of the audience members. One couple in particular was outstanding on the dance floor. If more people took up such beautiful couple's dancing like that, we might see world peace. Special shout-out to Preston Davies, whose unrelenting support of live music in the community helped make those events happen. Please show your support when they start up again in the autumn.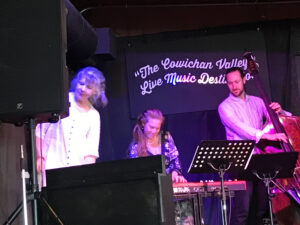 See you on July 1st, 12 – 1, at Bullen Park in Esquimalt, for the free Victoria Jazzfest stage! Public transit is Bus #25 or 15 or enjoy the inspiring pedal along the E & N trail. Lots of bicycle parking available.
Enough flogging of gigs for now. Stay tuned for gripping philosophical/poignant blogging.
LORRAINE NYGAARD PERFORMS AT VICTORIA JAZZFEST ! SATURDAY, JULY 1ST, 2023 12 – 1 P.M. AT BULLEN PARK IN