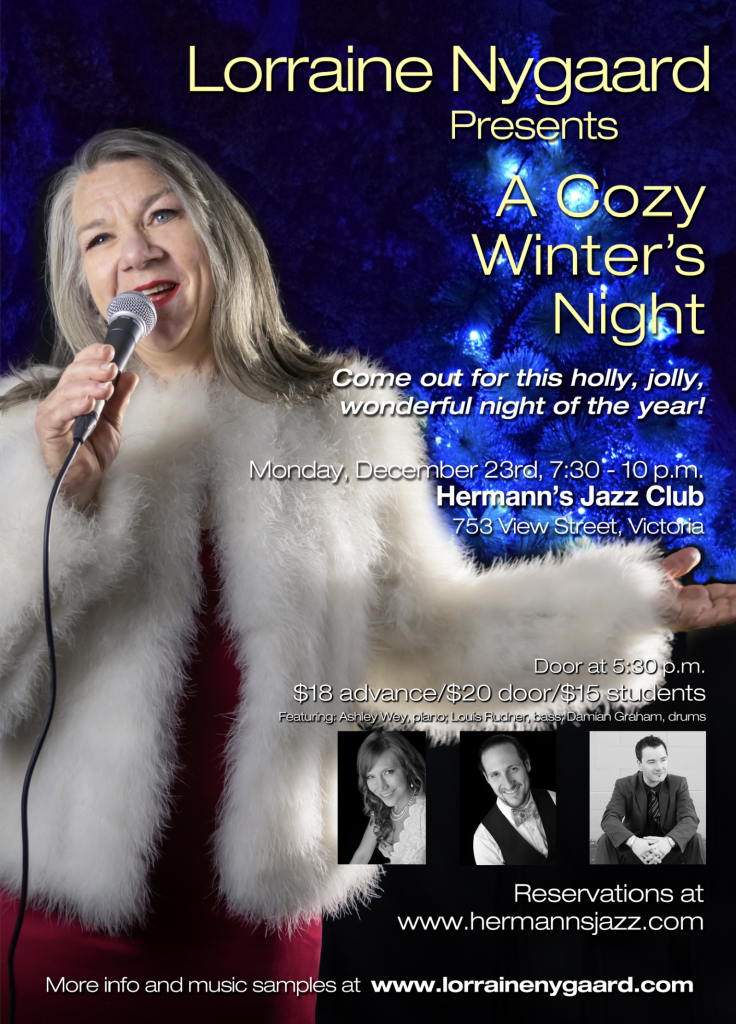 It's almost year's end: a time of reflection; gratitude; celebrating with friends and family; personal contemplation; and looking forward to the new year and all that it brings. When Hermann's offered the 23rd for a gig, the concern was to how to draw a crowd on a Monday night so close to Christmas. Almost immediately however, the reasons fell into place: Solstice is on the 22nd, my birthday is Christmas Eve, and I have always hosted a neighbourly open house in the holiday season. Why not do it at the club?
Many folks are overwhelmed by the hub-bub of the season: shopping, decorating, school recitals, baking, wrapping and more. For those folks, I offer rest. Come in your favourite sweatpants, Christmas sweater, put your feet up, order a nourishing salad from the kitchen with a cold beer and be nurtured, while enjoying some carefully selected repertoire.
Others might be looking forward to the event that marks the season as having done something special. A sequin dress event? Why not? Considering that this is an inaugural event with the hope of making it annually, it's essential that you experience this first one. Admittedly, we're making it up as we go, and welcome your input. Everyone loves the mix and mingle of breaks, so yes, let's do that! Special guests? Yes! Treats? Yes! We hope for the space and time for dancing, or at least toe-tapping to the rhythm. There may be an opportunity for supporting a charity as is the norm at this season.
Be bedazzled by the artistry of Ashley Wey on piano, Louis Rudner on bass, and Damian Graham on drums. Ashley and Louis were an important part of the Nina Simone tribute shows that we did in the spring, and I'm excited to work with them again. Damian is a funny, cool guy with wicked skills, and the swing tunes will see him shining. I can't wait to offer you all that I've embraced throughout the year. At the very least, audience members will be warmed, refreshed, and uplifted.
Logistics:
Reservations through the Hermann's website get $2 off, but please read the fine print on timing so that there are no surprises. $20 at the door, and $15 for students. Hermann's is an all-ages venue, so this is a great opportunity for your youngster's live music experience. Family rate will be created depending on your numbers.
Musical requests are welcome via the booking@lorrainenygaard.com, with no promise that they'll happen, but it's fun all the same. Questions/Concerns? Same email.
A big parkade, free after 6 p.m., is next door to Hermann's, 753 View St., between Blanshard and Douglas. Show starts at 7:30 and finishes at 10.
Watch for music videos from throughout this year as I get them online. It's been a wonderful ride, and I can't thank you all enough. See you on December 23rd! Ho, ho, ho….