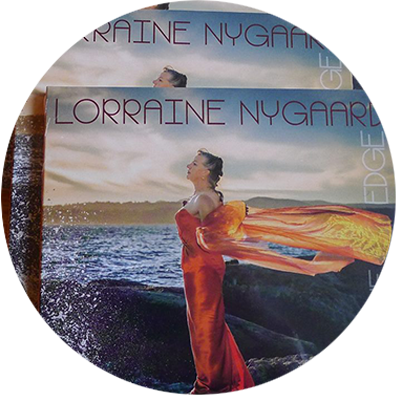 On The Edge showcases Lorraine's original music and lyrics.  Songs include such diverse themes as the yearning for love, justice for all, peaceful minds, and a snappy fun dance tune.  That they 've sprung from a natural source is why they resonant with you, the listener.  Louise Rose plays beautiful piano, Joey Smith is on bass, and Kelby MacNayr is on drums and percussion.  Glorious accents in a few of the pieces are offered by Nick LaRiviere on trombone, Roy Styffe on saxophone, and Daniel Lapp on trumpet and violin.
On The Edge is now available for purchase at the link below!
Music Videos
Check out the audio samples below!
"First Off The Floor" Album (2012)
First off the Floor was recorded in 2011, and released in 2012.  Featured are Misha Piatigorsky on piano, Ken Lister on bass, and Kelby MacNayr on drums; playing 9 traditional jazz standards and 1 gospel number.
Link to purchase coming soon!